Interventional
cardiology centre
_
At the heart
of your health
_
The Interventional Cardiology Centre at La Source accepts patients with basic health insurance.
The Centre of Interventional Cardiology of La Source specialises in coronary angiograms. This examination looks at the arteries that supply the cardiac muscle using a contrasting iodised product and X-rays. The search for narrowing and stenosis is one of the aims of this procedure.
The choice of the point of entry, be it femoral or radial, is done by the head interventional cardiologist responsible for the examination.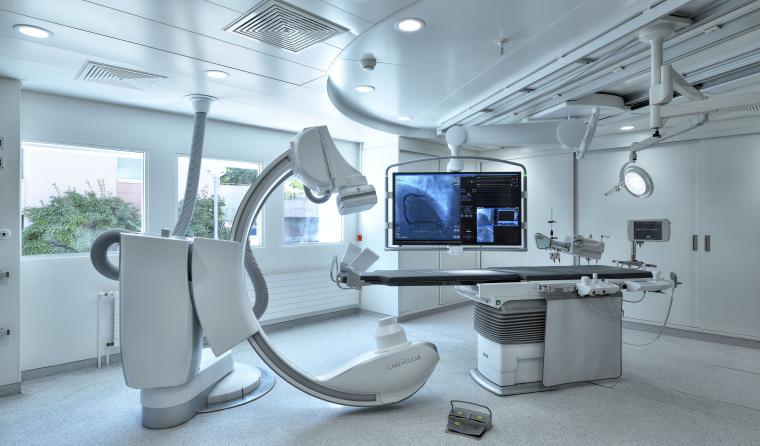 Depending on the result, the specialist doctor can decide what treatment to apply. Generally conducted in hindsight, it requires the use of balloons and stents with the aim of expanding the stenosed arterial wall.
Occasionally, the position or gravity of the lesions found may prevent immediate treatment in the cardiac catheterisation room, in which case you will be sent to a doctor who specialises in cardiac surgery for a bypass.
The preparation for the examination as well as the follow-up takes place in a location that is equipped for the medical care you will need.
In the first hours after the intervention, specific surveillance will be conducted by dedicated medical personnel.
You can either go home on the same day or the next day, depending on the length of the surveillance period required. Depending on the opinion of the cardiologist, who is seen consistently before your departure, you will be able to go back to your normal daily activities very quickly.
The medical team and interventional cardiology nurse will ensure your safety and comfort before, during and after the examination.
In the event of a hospitalisation lasting more than one day (maximum departure before midnight), these services will be paid for by your basic insurance and do not require supplementary insurance.
Deputy Head Nurse
MARCLAY Michel
Head Nurse of the Intensive Care and Interventional Cardiology