Table d'hôtes
Source des Saveurs
_
Come and enjoy a memorable gourmet experience, a feast for eyes and tastebuds alike prepared by our Chef Eric Godot!
Our Table d'hôtes is temporarily closed.
Come and try an exceptional gourmet menu – a feast for both the eyes and taste-buds prepared by our Chef, Eric Godot!
The Source des Saveurs Table d'hôtes can accommodate 2 to 10 people for lunch on Wednesdays and Fridays. This delicious experience can be shared with other guests depending on reservations. The menu is CHF 110.-- per person (excluding drinks) or CHF 150.-- per person (with wine pairings) and payment can be made in cash or by card. 
Wearing a surgical mask is mandatory, except when clients are seated. 
Reservations can be cancelled up to four weeks before the due date without penalty.
Should you wish to enjoy this culinary experience, we recommend becoming acquainted with our talented Chef Eric Godot through his cookery book, which is on sale at our kiosk, La Veranda.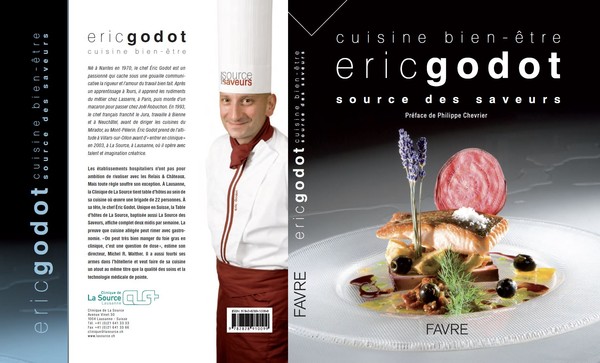 This magnificent album from the "Passions gourmandes" collection by Favre Publications brings together the best recipes created by this talented Chef, who has succeeded in balancing the requirements of high quality cuisine, while maintaining focus on healthy, low-fat meals. 
Chief Hospitality Officer
Sarah Braendle
Chef
Eric Godot
Contact & opening hours
Clinique de La Source - Table d'hôtes "Source des saveurs"
Avenue Vinet 30 1004 Lausanne
Tel +41 (0)21 641 35 50
Fax +41 (0)21 641 39 40
Wednesday and Friday

12:00 pm